"Faith can move mountains."
— Matthew 17:20
Prayer  Ministries
The worship team helps parishioners hear the Word of God and encounter Him in sacrament by serving at the Holy Sacrifice of the Mass.
Stewardship Team Ministries
The Stewardship Team encourages the faithful to recognize and develop their God-given strengths and equips parishioners for spiritual growth and active involvement in ministry.
Faith Formation Ministries
Faith Formation ministries support families in their primary role as educators of the faith through a formal Religious Education curriculum and provide access to resources and classes that enable parishioners of all ages to live the Catholic faith more fully.
Hospitality Team Ministries
On the second Sunday of each month, parishioners are invited to join us after the morning Masses for coffee, donuts, and conversation. We will gather outside, weather permitting, or in the social hall.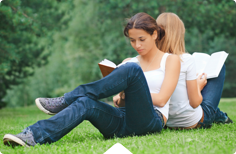 Outreach Ministries
The Outreach Team shares the love of God with the community by providing services that meet basic needs, offer compassionate support, and encourage spiritual connection to the faith community.
College Ministries
Everyone is invited to participate in weekly prayer, outreach, and social activities. The University Mass begins on August 12 at 6 pm. A home-cooked meal will be provided in the social hall after each 6 pm Mass this semester!